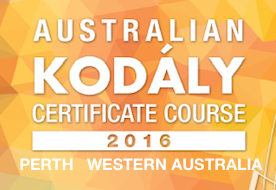 About
The Kodály Music Education Institute of Australia (KMEIA) is a national association for music educators.
Our organisation is inspired by the educational and aesthetic philosophies of the Hungarian composer Zoltán Kodály, adapting his ideas to create music programs for early childhood, schools and communities.
We support Australian music teachers as they strive for excellence in music education. more…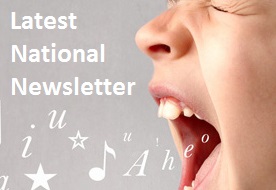 Upcoming Events
The Pathways to Music Program nurtures the idea of "music for everyone". A range of music courses have been designed to promote access and inclusivity as well as providing meaningful and rigourous music education. The key characteristic of this program …
Read more →
KMEIA NSW has experienced presenters available for Music Workshops in your Centre: tailor made to meet your Centre needs, these workshops provide the opportunity to develop repertoire and an understanding of the importance of Musical Play throughout the child's day. WORKSHOPS: …
Read more →
25-29th April,  and  18-22nd July 2016. Level One and Level Two Primary Music Education. Held at Tabor Adelaide on Goodwood Road. We are pleased to announce that Judy Johnson,internationally recognised, will be one of our lecturers. Other Lecturers:  Susan Searle  and Dr Janelle Fletcher.
Text book order form now available. Page updated 25 April 2016. Held over two blocks delivered across the term 2 and term 3 school holidays, a Primary and Secondary Level 1, 2 and 3 teacher training course will be running in Perth 2016. Successful completion will …
Read more →
LECTURERS Primary Level 1 Methodology: Kate Thompson Primary Level 2 Methodology: Mary-Jayne Smith Musicianship – Beginners (Levels 1-3): Kate Thompson, Intermediate (Levels 4-5): Réka Csernyik Conducting – Beginners (Levels 1-3): Susan Creese, Intermediate (Levels 4-5): Réka Csernyik DATES:   Winter School (Days …
Read more →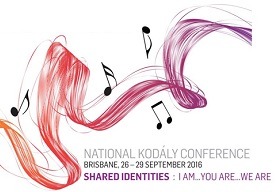 Latest News
Dear members, We were delighted to receive a number of nominations and applications for both the Australian Kodály Scholarship (AKS) and the Enid Scott Conference Award (ESCA) and it is with great pleasure that I announce the inaugural recipients. Australian …
Read more →
Two weeks left for Super Early Bird! Registrations are coming really well for the Conference! If you have already sent in your registration, can you please send this to someone else. If you would like to get in time for …
Read more →
Dear members, Are planning to join us in Brisbane from 26 – 29 September at All Hallows' School? Perhaps you have already sent in your registration? It is exciting to see the national conference coming together. With the hard work …
Read more →
Dear members, REMINDER –  The closing date for all complete applications is this Thursday 31st March. It is with great pleasure that I write to inform you of our inaugural Australian Kodály Scholarship (AKS) and Enid Scott Conference Award (ESCA). …
Read more →
We hope you had a good start to the New Year and wish you all the best in 2016! Presenters and Sessions Applications to present at the National Kodály Conference are now closed and invitations are going out to presenters. …
Read more →